Richmond is the capital of the Commonwealth of Virginia and is the center of the Greater Richmond Metro Area which includes the adjacent counties of Chesterfield, Hanover, and Henrico. Ideally situated in the central part of the state, Richmond is less than two hours from Washington, DC, the Atlantic Ocean, and the Blue Ridge Mountains.

Richmond's economy is primarily driven by law, finance, and government, with federal, state, and local governmental agencies, as well as notable legal and banking firms, located in the downtown area. Six Fortune 500 companies are headquartered here and the area ranks 15th in the nation for number of Fortune 1000 companies per 100,000 residents (in metro areas of 1.5 million residents or less).

There's something for everyone here! From history to the arts and culture, hiking and other outdoor activities, entertainment, shopping and dining, Richmond is a great place to live and work.


Area and Neighborhoods
For real estate purposes, the Richmond Metro Area is organized geographically by numbered zones as shown in the map below: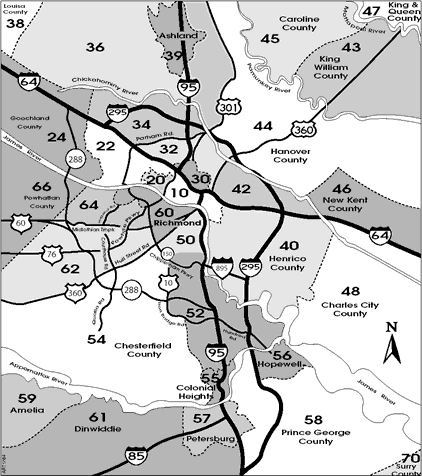 Richmond (City)
Area 10 (Center City & Downtown)
The Fan
Museum District
Historic Church Hill & East End Neighborhoods
Shockoe Slip/Shockoe Bottom
Jackson Ward
Carver
Oregon Hill
Scotts Addition
Carytown


Area 20 (Near West End)
Malvern
Windsor Farms
South of Cary Street
Colonial Place
Glenburnie
Hillcrest
Hampton Gardens
University of Richmond Area


Area 30 (Northside)
Bellevue
Ginter Park
Highland Park


Area 60 (Southside)
Westover Hills
Stratford Hills
Forest Hill
Woodland Heights
Manchester
Riverside Drive


Henrico County
West End (Area 22)
The Colonies & Foxhall
Mooreland Farms & Landing
Barrington
Burgundy Parke
Grayson Hill
Riverlake Colony
Raintree
University Heights
Westham
Westhampton
Sleepy Hollow
West Broad Village


Glen Allen (Area 34)
Cross Creek
Estates at Hampshire
Grey Oaks
Hampshire
Hunton
Magnolia Ridge
Twin Hickory
Wyndham
Wyndham Forest
Stonehurst
Stable Hill
Westin Estates


Chesterfield County
Northern Chesterfield – Bon Air to Midlothian (Area 64)
Bon Air
Buford Road
Belgrade
Founders Bridge
Oak Park
Queens Grant
Reeds Landing
Salisbury
Tarrington
Riverton
Woodmont
Old Gun Road Area
Cherokee Road Area


Western Chesterfield – Midlothian to Hull Street (Area 62)
Brandermill
Woodlake
Charter Colony
Edgewater
Hallsley
Magnolia Green
Rountrey
Stonehenge
Smoketree
The Grove
Amberleigh


Hanover County
Western Hanover & Ashland (Area 36)
Ash Creek
Cedarlea Park
Kings Charter
Lindsay Meadows
Mountain Run
Pebble Creek
Town of Ashland


Eastern Hanover (Area 44)
Pebble Creek
Crown Colony
Bluffs at Bell Creek
Lindsay Meadows
Scot's Landing

For more information about the area, check out these helpful links:
·http://www.areavibes.com/richmond-va/neighborhoods…
·http://en.wikipedia.org/wiki/Neighborhoods_of_Rich…
·http://www.city-data.com/nbmaps/neigh-Richmond-Vir…